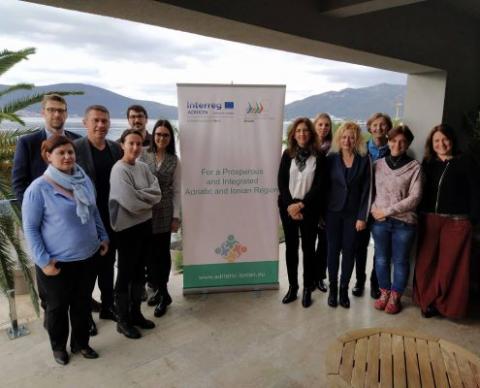 The Ministry of Agriculture and Rural Development of Montenegro organized the 10th meeting of the Thematic Steering Group for Pillar I – Blue Growth, under the EU Strategy for the Adriatic and Ionian Region (EUSAIR). The meeting was supported by the European Integration Office – EUSAIR Facility Point Project Partner in Montenegro.The event took place on 14-15 November 2019 in Tivat (Montenegro).
In the meeting the representatives of six countries had participated from Albania, Croatia, Greece, Italy, Montenegro, Serbia, as well as the representative of the European Commission-DG Regio and the Facility Point Lead Partner from Slovenia.
Apart from informing the participants about the conclusions and decisions from the last Governing Board, the main focus during this meeting was on the development of the project idea related to ''Fishing tourism and ichthyotourism''. According to the participants, the project would be of great importance for fishing tourism in the AI region.