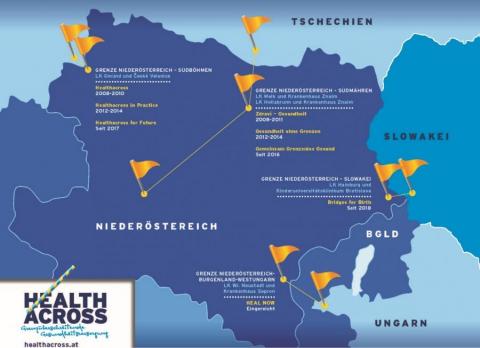 Showcasing the experience of Lower Austria, the report describes the first large-scale effort to develop cross-border cooperation on health care between two neighbouring states in the WHO European Region, where health care across borders is a reality, even if it takes work to achieve. The benefits of cross-border cooperation include having accessible services in place that protect and promote population health and improve clinical knowledge and practice through the cross-fertilization of expertise. The report includes examples of cross-border cooperation from other European countries, including that of the Meuse-Rhine Euregion, which has made great strides in supporting cross-border collaboration in many areas, such as health, and including health promotion and disease prevention. 
Within the framework of the INTERREG A funding programmes, various health projects have been and are carried out in Lower Austria's border regions. Between Lower Austria and South Bohemia (CZ), in a town formerly divided by the Iron Curtain, Gmünd - České Velenice, it is now common practice for Czech citizens to receive in- and out-patient treatment in the hospital of Gmünd. The "Healthacross" project series, which serves as the name for the entire initiative, is also creating the first European cross-border healthcare centre precisely at this former border. After completion in autumn 2021, it will be possible for both Austrian and Czech doctors to treat Austrian and Czech patients there. The healthcare centre will be named "Healthacross Gesundheitszentrum Gmünd".
With South Moravia and Vysočina (CZ), it became possible for Lower Austrians to receive radiotherapy treatment in the hospital in Znojmo, and with the help of Czech doctors, the regional hospital in Melk was developed into a level 2 endometriosis centre. In the border region between Lower Austria and Bratislava (SK), the first pilot project "Bridges for Birth" is currently being carried out.  As a result, the possibility of a neonatal transfer from the hospital of Hainburg to the Children's University Hospital Bratislava, which is only 16 km away, is being developed. Moreover, the first cross-border cooperation between Lower Austria and Western Transdanubia (HU) was launched at the beginning of 2020. Here, the hospital Wiener Neustadt and the University Hospital Erzsébet Sopron will in the future join forces in digital pathology in order to detect tumour diseases at an early stage together.