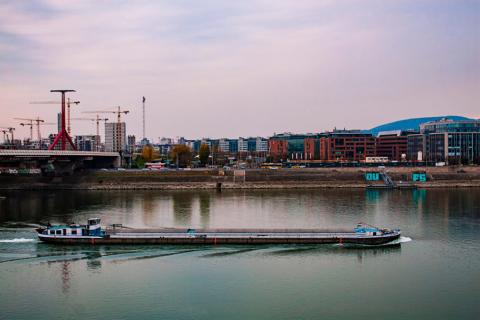 As Danube navigation has been struck by COVID-19, passenger transport and tourism seemed to hit a brick wall.
Although cargo transport volumes could be maintained at normal levels in March, they could be affected by the economic slowdown after the lockdown period. However, this is not the only concern: low water season could hit Danube navigation during the summer 2020 due to low precipitations in winter 2019/2020.
To tackle with the concerns, the Danube Ministerial Conclusions on effective waterway rehabilitation and maintenance were reaffirmed: the need for an effective and timely progress monitoring on the Danube waterway was underlined, although the Danube waterway is know better prepared for extreme weather impacts than it was five years ago.
In addition to this, the European Commission has already requested Member States to ensure that EU-wide supply chains continue to operate as 'green lane' border crossings: the key here was to reduce control procedures for cargo to what is strictly necessary. 
As a result, harmonised border controls were successfully introduced in Hungary, the Republic of Croatia and the Republic of Serbia. So in their conclusions, the Danube Transport Ministers explicitly acknowledged the introduction of these control forms as well as additional measures concerning the Danube waterway.